Aces Versus Aces - Graf & Grislawski Versus Enemy Fighter Aces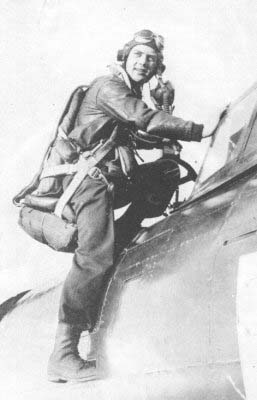 Hubert Zemke, undoubtedly one of the finest unit leaders and fighter aces in the Eighth Air Force. In 1941 he served as a fighter instructor in the USSR, teaching Soviet pilots to handle Lend-Lease Curtiss P-40 fighters. Two years later, he belonged to Graf's and Grislawski's regular adversaries in the contested skies over Germany, where Zemke led his "Wolfpack" Fighter Group. An entire chapter in "Graf & Grislawski: A Pair of Aces" is dedicated to a dramatic encounter with Hubert Zemke.
"Hermann Graf's thoughts were somewhere else. 'I wonder what that fighter pilot is like? What might he be doing now? Perhaps he is sitting by a typewriter and doing the same kind of work as I am doing now. Or is he telling his mates about his encounter with that Messerschmitt pilot yesterday? I wonder what he said about me. I sure would like to sit down and have a chat with him. He must be one of their top pilots.' And once again, Graf recaptured the air combat in the afternoon of the previous day…"
In the forthcoming dual biography on Hermann Graf and Alfred Grislawski, "Graf & Grislawski: A Pair of Aces", several of the other famous protagonists of the Jagdwaffe are portrayed - like Werner Mölders, Adolf Galland, Günther Rall, Erich Hartmann, Herbert Ihlefeld, Edmund Rossmann, Ludwig-Wilhelm Burckhardt, and many more.
A large number of Allied aces also are among the protagonists in the book. Through painstaking research in various archives, it has been possible to identify a large number of Hermann Graf's and Alfred Grislawski's enemies in the air. The book presents proof of several encounters between Graf and Grislawski, and well-known Allied fighter aces.
Graf and Grislawski encountered quite a large number of Soviet aces in individual aerial combats. Some of them are Aleksandr Pokryshkin, Aleksandr Klubov, and Dmitriy Glinka. Plus several others, and these events are described in the book.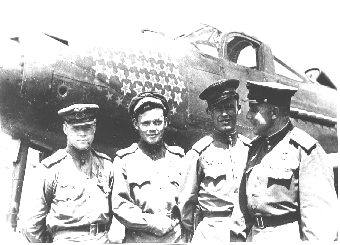 Soviet P-39 Airacobra aces (from left) Aleksandr Klubov (31+19 victories), Grigoriy Rechkalov (56+6), Andrey Trud (24+1), and Boris Glinka (31) - the latter the brother of 50-victory-ace Dmitriy Glinka who actually was twice shot down by aces in Graf's and Grislawski's unit.
Flying against the 8th Air Force in 1943 - 1944, they duelled with famous American aces such as Hubert Zemke, Donald Blakeslee, and John T. Godfrey . In the chapter dealing with Graf in JG 50, it will be analyzed whether it was Graf who was shot down by Free French Spitfire pilot Commandant Pierre Montet Martell July 27, 1943. Other identified Free French Spitfire pilots violently encountered Alfred Grislawski over Normandy in the summer of 1944. Also over Normandy, Grislawski was shot down by a Canadian Spitfire pilot . (The latter incident was not reported to the official German Generalquartiermeister der Luftwaffe loss files; neither was an occasion when Grislawski was shot down by a Soviet fighter pilot - identified by us - in the East.)
Excerpts from the book "Graf & Grislawski" where encounters between Graf and/or Grislawski and enemy aces are described can be found at Aces Versus Aces, Part 2.
Continue to Aces Versus Aces Part 2
(Note:For translation of non-English links above, this automatic translation service is recommended.)
---
More by Christer Bergström -
the detailed history of the air war on the Eastern Front 1941 - 1945:
Black Cross/Red Star: Air War Over the Eastern Front
---
&copy Christer Bergström, Vlad Antipov 2002 - 2003