JG 50: "Geschwader Graf"
In Graf & Grislawski: A Pair of Aces, JG 50's history is covered in detail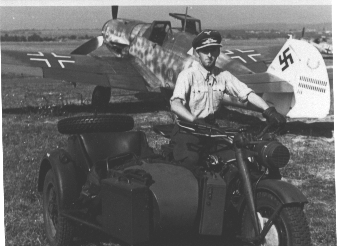 Major Hermann Graf takes a ride on a BMW in front of his Bf 109 G-6 at JG 50's base at Wiesbaden-Erbenheim, August 1943.
The dual biography on Hermann Graf and Alfred Grislawski, Graf & Grislawski: A Pair of Aces, also can be read as the history of the Luftwaffe's Fighter Arm between 1939 and 1945--as seen through the eyes of two of the most successful protagonists. The book covers Graf's & Grislawski's service with JG 51 in 1939, JG 52 between 1940 and 1943, JG 50 in 1943, JG 1 and JG 11 in 1943 - 1944, JG 53 in 1944, and finally JG 52 in 1944 - 1945. Several of the other famous protagonists of the Jagdwaffe are portrayed in the book--like Werner Mölders, Adolf Galland, Günther Rall, Erich Hartmann, Herbert Ihlefeld, Edmund Rossmann, Gerhard Barkhorn, Josef Zwernemann, and Hans Dammers.
The specialized Mosquito-hunting Jagdgeschwader 50 is one of the most legendary Luftwaffe fighter units of World War II. Still, only little about this unit's history was known previously --despite the fact that it was commanded by +200-victory ace Major Hermann Graf, and that it included famous aces such as Alfred Grislawski, Ernst Süss, and Heinrich Füllgrabe.
In Graf & Grislawski: A Pair of Aces, JG 50's history is covered in detail--from its foundation, over the difficult missions against evasive RAF Mosquitos and the heavy bombers and Thunderbolts of U.S. Eighth Air Force, to Hermann Göring's dishonorable dissolvement of JG 50.
A total of 39 original photographs--including some in color--illustrate the chapters in the book that describe JG 50's history. All photos are printed in very high quality on glossy paper, and most of these photographs have never been published before. Two color profiles by Claes Sundin of Graf's & Grislawski's aircraft in JG 50 are also published in the book.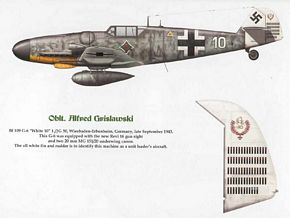 The original rudder of Alfred Grislawski's Messerschmitt Bf 109 G-6 in JG 50 (see illustration above) is presently displayed at Technikmuseum Speyer in Germany. For more information, click here.
---
More by Christer Bergström -
the detailed history of the air war on the Eastern Front 1941 - 1945:
Black Cross/Red Star: Air War Over the Eastern Front
---
&copy Christer Bergström 2001 - 2004