Aces Versus Aces - Part 2
On a number of occasions, fighter aces of the opposite side were shot down by Hermann Graf or Alfred Grislawski. Below follows a number of excerpts from our book.
"[X] started turning for his life in order to evade the aggressive Messer that clung to his tail. Alfred Grislawski knew that the Yak-1 was more maneuverable than a Bf 109 F at low altitude, but by putting down the landing flaps he was able to turn into the Yak's circles. This was a hazardous maneuver, but Grislawski had tested this on several occasions. The musculous German pilot used all his physical strength and flight skills, and after each circle, more and more of the Yak's tail drifted into his gunsight. When the entire Soviet plane filled his windscreen, Grislawski opened fire. There was a huge flash, and his enemy disappeared."
"The Mustangs' drop tanks came tumbling down, and then three Mustangs wheeled over and attacked the Feldwebel's Messerschmitt from behind. While still cursing, Hermann Graf made a sharp turn, positioned himself behind of one of the Mustangs. He did this without any difficulty, and it felt just like over Stalingrad. The Mustang filled Graf's entire windscreen. A short burst of fire. The 20mm cannon and the two 13.2mm machine guns set the American fire burning, and it fell vertically, leaving a thick, black plume of smoke. 4th FG's 1/Lt. [X] bailed out."
Corresponding combat reports that confirm Graf's or Grislawski's victories are quoted, of which the two below are random examples.
"0748 hours. Ten I-16s commanded by Kapitan [X] encountered seven Me-109Fs, who some minutes later were joined by another group of seven Me-109Fs. In a combat lasting 18 - 20-minutes, two I-16s were shot down. Kapitan [X] and Leytenant [X] bailed out. Leytenant [X] later returned to the unit, but Kapitan [X] is missing."
"The four groups of the Wing took off at 1240 hrs with the task to escort 100 Lancasters and Halifaxes against an important fuel and ammunition depot at Montrichard, to the north of Tours. On the return flight, two aircraft from Yellow Section spotted two unidentified aircraft, flying at low altitude, and ventured to attack them. During a furious fight, [X]'s Spitfire was shot down immediatly, and crashed into the ground."
In other cases, the opponent who was shot down by Graf or Grislawski and was lucky to survive tells us of the incident in his own words.
"Flames scorched my face and I felt a terrible pain. All I could see in front of me was flames. I think I lost consciousness for a brief moment. Next thing I remember was the parachute silk enveloping above me. Below, my blazing aircraft crashed into the ground. In the blue sky in front of me I could see a yellow stripe of fire and a gray smoke plume. I guessed it marked the descent of another Yak-1."
But of course the aerial battles were far from one-sided. Below are examples of cases when Allied aces were close to killing Graf or Grislawski.
"Everything came so suddenly. Grislawski's teeth cluttered as the bullets slammed violently against the armored shield behind his back. When he turned to evade the attack, he realized that his aircraft was on fire. Hartmann, who dutifully fulfilled his plight as wingman, drove off the pursuer. Then his agitated voice cried out over the R/T: 'Aussteigen! Aussteigen!-Bail out! Bail out! You're on fire!' His warning was absolutely superfluous. Large flames spread out from the Bf 109's nose. Bubi Hartmann kept screaming: 'Um Gottes Willen! Aussteigen! Aussteigen!-For God's sake, bail out!' " (We have identified the Soviet fighter pilot who shot down Grislawski on this occasion.)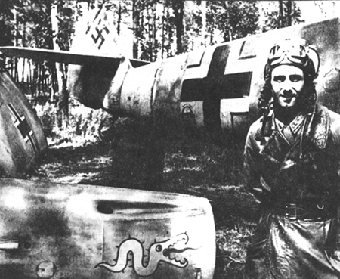 A Soviet fighter pilot poses next to the Bf 109 that he reportedly shot down. (This was not Graf's or Grislawski's Bf 109.)
It has also been possible to identify the airmen who shot down Graf or Grislawski. Their corresponding combat reports are quoted, and the authors have met two of them and made interviews.
"I saw a lone Me 109 break out of the gaggle so I dived on him, who was skidding and slipping before he closed to good range, opened fire at 400 yards with 20 - 30 degree deflection, got hits on fuselage, canopy came off, and pilot bailed out."
Since we wrote the book in close cooperation with Alfred Grislawski (who has given his approval to the final result), Mr. Grislawski learned the identities of a large number of Soviet, American, British, Canadian, and French airmen that he encountered during the war years. Whenever Mr. Grislawski was informed of such a new name, his standard question was: "Did he survive?" If the answer was positive, Mr. Grislawski always felt a great relief. In some cases, we have been able to forward a contact between Alfred Grislawski and some of his former foes that he once met man against man in air combat. A particular case was when we managed to identify, trace and forward a contact to the American airman who once had been shot down by Grislawski, and whom Grislawski had met on the ground after they both had bailed out. "Politicians make war but airmen make friends" - this saying by a famous RAF WW II fighter ace has been confirmed through those contacts.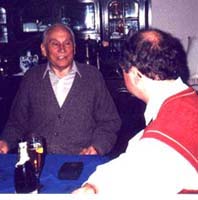 Discussing the book: Alfred Grislawski and Christer Bergström.
Notes:
All names above that have been replaced with an [X] here are of course mentioned explicitly in the book, which is published by Eagle Editions in 2003, and can be ordered now.
Back to Aces Versus Aces Part 1
---
More by Christer Bergström -
the detailed history of the air war on the Eastern Front 1941 - 1945:
Black Cross/Red Star: Air War Over the Eastern Front
---
&copy Christer Bergström, Vlad Antipov 2002