Background to the book "Graf & Grislawski: A Pair of Aces"
(the book was published by Eagle Editions on 28 August 2003)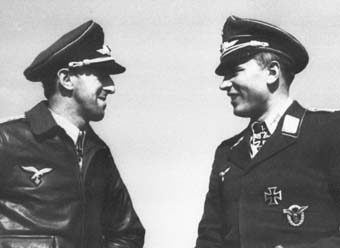 Hermann Graf and Alfred Grislawski were two of the most skillful and colorful Luftwaffe fighter pilots during World War II. The close bonds of friendship between Graf and Grislawski, which lasted until Graf passed away in 1988, is well-known.
In September 1942, Hermann Graf ruled the skies above Stalingrad. In a month's time, he shot down sixty-two Soviet aircraft, and became the first fighter pilot to reach the 200-victory mark. By that time, he had achieved his first victory only thirteen months previously.
Alfred Grislawski, Graf's wingman and friend, was one of the most successful German fighter pilot during the air war over the Caucasus and during the Air Battle over Kuban in 1943. Grislawski achieved a total of 132 victories (not 133, as stated in most publications), and was awarded with the Knight's Cross with Oak Leaves.
Through painstaking research in various archives, it has been possible to identify a large number of Hermann Graf's and Alfred Grislawski's enemies in the air. The book presents proof of several encounters between Graf and Grislawski, and well-known Soviet and American fighter aces. On a number of occasions, famous aces of the opposite side were shot down by Graf and Grislawski. The corresponding combat reports are quoted. It has also been possible to identify the airmen who shot down Graf or Grislawski, and to present their combat reports in question.
It was during his stay in the Caucasus in the fall of 1942 that Grislawski taught the forthcoming top scorer Erich Hartmann the secrets of air combat. Grislawski was a hard teacher, and he invented Hartmann's nickname "Bubi" ("Little Boy").
Hermann Graf's life was divided between his two passions for flying and for soccer. Only a broken thumb prevented him from being recruited into the German National Soccer Team as a goalkeeper.
Alfred Grislawski, the tough son of a miner, never dreamt of becoming a pilot. He only escaped hard work on the countryside by joining the Armed Forces, and there he was posted to the Luftwaffe.
Hermann Graf's and Alfred Grislawski's 9. "Karayastaffel"/JG 52 developed into the most successful Jagdstaffel of the entire war. At the same time, the "Karaya-men" were notorious for their lacking discipline. In his foreword to the biography, Alfred Grislawski writes:
"In 1941 - 1943, the Karayastaffel was probably the most non-militaristic unit in the entire Wehrmacht."
The Karayastaffel was characterized by the friends' quartet Hermann Graf, Alfred Grislawski, Heinrich Füllgrabe, and Ernst Süss. Within this quarter, Graf and Grislawski stuck together closest, while Füllgrabe and Süss were inseparable. "They even went together to the 'Thunderbeam' (latrine)," Alfred Grislawski recalls.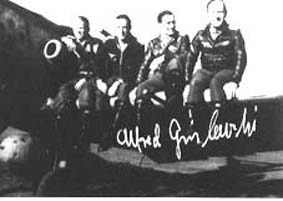 The "Karaya Quartet", all wearing USAAF flight jackets:
Alfred Grislawski, Hermann Graf, Ernst Süss, Heinrich Füllgrabe.
The Karaya mens' pranks alone could fill a volume. Once they drove a staff Oberst completely out of his mind when he arrived to inspect their first-line makeshift airfield. On one occasion, one of the men in the quarter hi-jacked Generaloberst von Richthofen's Storch to fly an injured comrade to a field hospital.
A Reichsverteidigung Geschwaderkommodore threatened to have Grislawski court-martialled. When a large formation of U.S. bombers shortly afterward approached, a fighter leader decided to nullify the court-martial: "Grislawski must lead our fighters! Who else can lead?"
In 1943, Reichsmarschall Hermann Göring personally instructed Graf to lead a new "Mosquito-hunting" fighter unit, JG 50. Graf received the Reichsmarschall's personal authorization to pick any man that he wanted. Graf picked not only his three friends Grislawski, Süss, and Füllgrabe - but also the entire German National Soccer Team. At the same time as Graf formed JG 50, he formed a new soccer team - "The Red Fighters" (which caused a senior Nazi functionaire to accuse Graf of spreading Communist propaganda) - of which the soccer legend Fritz Walter was a part.
On July 27, 1943, a German fighter ace by the name of "von Graff" was injured in combat with a Free French Spitfire pilot, according to French fighter ace Pierre Clostermann's memoirs. A common question is: "Was this Hermann Graf?" This will be analyzed in detail in the book.
Later, Graf was assigned to lead JG 1 in the Home Defense. Once again, he brought his three friends and the soccer players with him. "Wherever Graf goes, he brings his rat tail along," Fighter General Adolf Galland complained. Shortly afterward, Graf was shifted to command JG 11, also in the Home Defense.
Alfred Grislawski developed into one of the most daring "Four-Engine Killers" of the Reichsverteidigung. In fact, he shot down at least one bomber on every single encounter with U.S. 8th Air Force's heavy bombers.
Only two of the "Karaya Quartet" survived. Ernst Süss was shot dead by U.S. Mustangs (the unit in question is known) while he hung in his parachute straps. Heinrich Füllgrabe was killed in action on the Eastern Front during the last days of the war.
After the war, Grislawski became one of the first German POWs to become released, because his interrogation officer found out that Grislawski had never joined the Hitler Jugend, nor the NSDAP. (For this reason, Grislawski also had never been awarded with Göring's Goblet of Honor.)
Hermann Graf spent many years in Soviet captivity. Much has been said and written about Graf's alleged cooperation with the Soviets. This will be analyzed in detail in the book. The authors have access to an extensive material from Russian POW archives - including Hermann Graf's entire POW file, which has been hidden in a Russian archive until recently (December 2001). Finally, it is possible to uncover the full truth of Hermann Graf's activities in captivity, and to get rid of some long-lasting myths!
The biography on Hermann Graf and Alfred Grislawski was written in close cooperation with Alfred Grislawski. It contains more than 300 photos, most of which have never previously been published, many of which are from either Traditionsgemeinschaft JG 52 or Mr. Grislawski's personal photo album.
We owe deep gratitude to Traditionsgemeinschaft JG 52 , which provided us with much material (photos, documents, etc.), forwarded many valuable contacts and gave us an unwavering support to make this book become a reality. Mr. Manfred Wägenbaur of Traditionsgemeinschaft JG 52 rendered us an invaluable support, for which we are eternally grateful.
The biography on Hermann Graf and Alfred Grislawski also includes 26 color profiles by Claes Sundin of the aircraft flown by Graf and Grislawski. Each profile is the result of a scrupulous research work.
The book "Graf & Grislawski: A Pair of Aces"
is published by Eagle Editions
You can order the book HERE now!
---
More by Christer Bergström -
the detailed history of the air war on the Eastern Front 1941 - 1945:
Black Cross/Red Star: Air War Over the Eastern Front
---
&copy Christer Bergström, Vlad Antipov 2001 - 2003