Fritz Walter - the German soccer legend - and Hermann Graf: Another friendship
Fritz Walter, the captain of the West German soccer team that won the country's first World Cup title in 1954, passed away on 17 June 2002, at the age of 81. He is regarded as one of the best German soccer players ever.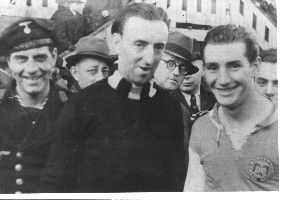 Hermann Graf (center, in his goalkeeper outfit) and Fritz Walter, wearing the "Red Fighters" shirt.
What is less known is that close bonds of friendship developed between the fighter ace (and soccer fanatic) Hermann Graf and the soccer star Fritz Walter. In 1959, Fritz Walter even wrote a book ("11 rote Jäger") dedicated to Hermann Graf and Graf's famous wartime soccer team "Die roten Jäger"--where Walter played forward and Graf was goalkeeper. Fritz Walter wrote:
"Maybe the daily nerve-racking encounter with death was the reason to Graf's truly fanatical preoccupation with soccer during those days. He needed soccer as a mean to create a balance, he needed it as badly as anyone else needs his daily bread."
The loyalty Walter felt toward Graf hardly is surprising. In 1943, Graf intervened to save all the best German soccer players from the horrors of frontline service, and had them transferred to his JG 50 in Germany--under the pretext that they were "badly needed technical experts". This cost Graf much sweat, and led to many adventures--all of which is described in the book "Graf & Grislawski".
With Fritz Walter, it all started during III./JG 52's stay in Romania in 1940 - 1941, when a Romanian élite Army soccer team challenged the German Military Mission for a soccer game. The meeting would take place in Bucharest's Sport Arena. Graf, in charge of the German soccer team in Romania, decided to pull the Romanians' leg. He contacted Sepp Herberger--the legend who once had trained Graf for the national soccer team, now in the position as the National Team's coach--and managed to bring together several of Germany's National Soccer Team players, including the star Fritz Walter, undoubtedly the finest German soccer player by that time. The Romanian players were absolutely stunned to see so many familiar faces enter the soccer ground. With Hermann Graf in the goal, the audience of forty thousand saw the Germans defeat the Romanians with three to two.
Later, Walter was drafted into the army as an Obergefreiter. It took Graf a long journey to have Walter saved from the horrors on the Italian front in 1943. From then on and until the end of the war, Walter was the star in Graf's own soccer team--following Kommodore Graf from JG 50 to JG 1, and JG 11, and JG 52.
---
&copy Christer Bergström, Vlad Antipov 2002
---