Hansgeorg Bätcher
- Top Bomber Ace of World War II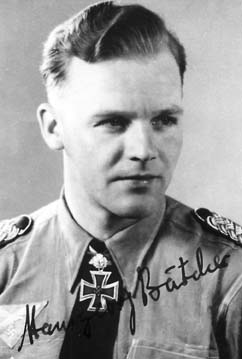 Hansgeorg Bätcher carried out 658 combat flights during World War II - a higher number than any other multi-engine bomber flier. The three top aces of the Luftwaffe are Erich Hartmann (fighters), Hans-Ulrich Rudel (bombers), and Hansgeorg Bätcher (bombers).
Born on January 13, 1914, Hansgeorg Bätcher received his flight training at Fliegergruppe Tutow between November 1, 1935 and March 3, 1936. With the rank of a Leutnant, he served with I./KG 157 (later I./KG 27) from December 1, 1938. He flew with this unit, as an Oberleutnant, against Poland in 1939. Later, Bätcher participated in the invasion of France, whereby he was shot down and captured near Rouen on June 5, 1940.
After the surrender of France later in June 1940, Bätcher was released. He served some time as a flight trainer, and on May 19, 1941, he returned to first-line service - with Kampfgruppe 100 "Wiking", equipped with Heinkel He 111 bombers.
On July 1, 1941, Bätcher was appointed Staffelkapitän 1./K.Gr. 100, and shortly afterward, this unit was posted to the Eastern Front - where it would remain. Bätcher participated in the difficult air offensive against Moscow in late summer and the fall of 1941, and he describes this in Black Cross/Red Star, Vol. 1. Bätcher was awarded with the Bomber Pilot's Clasp in Bronze on August 23, 1941, in Silver on September 3, 1941, and in Gold on November 8, 1941. K.Gr. 100 was designated I. Gruppe of KG 100 "Wiking" on December 15, 1941.
In early 1942, I./KG 100 was brought in to help combat the powerful Soviet fleet in the Black Sea, and Bätcher became the most successful bomber pilot during this campaign, sinking or damaging several Soviet naval vessels. On March 1, 1942, he was promoted to Hauptmann. In early summer of 1942, Bätcher took part in the aerial asssault against Sevastopol, and he carried out his combat flights numbers 177 through 300 against this target between May 20, 1942 and July 2, 1942. All of this is described by Bätcher himself in Black Cross/Red Star, Vol. 2.
Following missions over the Caucasus during August 1942, he participated in the fierce air battle over Stalingrad. During this battle, one of Bätcher's crewmembers were killed. When Stalingrad was surrounded by the Red Army, Bätcher carried out hazardous supply flights to the besieged German Sixth Army. For those feats, Bätcher was awarded with the Knight's Cross on December 21, 1942 (following 442 combat flights).
In the summer of 1943, Bätcher took part in the last German summer offensive on the Eastern Front - Operation Zitadelle, or The Battle of Kursk. He also flew missions over the contested Kuban Bridgehead. On July 30, 1943, Bätcher completed hos 500th combat flight.
During the severe retreat on the Eastern Front, Bätcher maintained a steady combat activity, logging his 600th combat flight on November 21, 1943. On November 1, 1943, when I./KG 100 was redesignated as I./KG 4, Bätcher was promoted to Major and appointed Gruppenkommandeur. His 650th combat flight was carried out on February 9, 1944.
After completing 658 bomber missions - most of which he had carried out as an He 111 pilot on the Eastern Front - Bätcher was posted to the Staff of Luftflottenkommando 4 on May 6, 1944. He remained there until December 5, 1944, when he was tasked to command III./KG 76 - equipped with the first Jet bomber, the Arado Ar 234 - against the Western Allies. Bätcher's last bomber missions were made piloting an Ar 234 Jet against British and American troops in February 1945.
On February 27, 1945, he was appointed commander of Me 262-equipped KG(J) 54, which he led until the end of the war.
Hansgeorg Bätcher has provided an invaluable assistance to our work on "Black Cross/Red Star". Today he holds his former enemies during the war in high respect, and in his foreword to "Black Cross/Red Star", Vol. 2, Bätcher writes: "I am sure that [this book] will contribute to dismantling the remaining hostility between our peoples."
For more on this topic - see this page.
Photo of Hansgeorg Bätcher today here.
© Christer Bergström 2001
Back to Main Page