German and Soviet Bombers on the Eastern Front in 1942
- a Comparison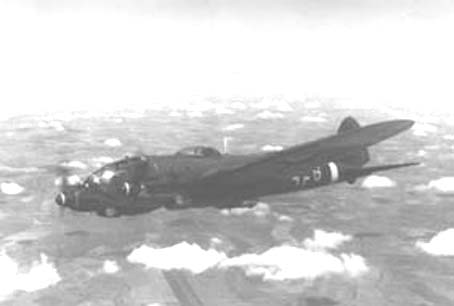 A He 111 in the air over the Eastern Front.
Throughout the war on the Eastern Front, both the German and the Soviet bomber forces were used mainly for tactical purposes. Any true strategical operations - aimed at crippling the enemy's industrial potential - were carried out relatively seldom.
However, a large part of the German and Soviet bomber missions were directed against the enemy's lines of communication - mainly railway lines - in the rear area. Other important bomber targets were airfields, shipping, and ports. During particularly intense ground fighting, both sides dispatched their twin-engine bombers on pure close-support sorties.
Although these operations resulted in severe damage to the bombed installations, both sides generally exaggerated the results of their bombing raids. Polkovnik Yevgeniy Loginov's Soviet bomber wing 1 DBAD claimed to have destroyed 42 German aircraft on the ground at Orsha, Smolensk, and Vitebsk between January 23 and February 22, 1942 - a manifold exaggeration. When 90 bombers of German Luftflotte 1 attacked the Ladoga port of Osinovets on May 28, 1942, the only important result was the destruction of a warehouse, a storehouse, and eight railway cars.
One of the most successful single Soviet bomber operations during 1942 was directed against Dugino Airdrome on the night of August 10/11, when 25 German aircraft - including 16 from JG 51 and II./JG 54 - were put out of commission. Without doubt, the single most successful German bomber attack on the Eastern Front in 1942 was I./KG 76's and I./KG 100's attacks against the Black Sea ports of Taman, Anapa, and Novorossiysk on July 2 - leading to the destruction of the flotilla leader Tashkent and a destroyer, plus three transport ships, a salvage vessel, a schooner, two torpedo boats, and a patrol boat. In addition, a minelayer, two destroyers, and seven other vessels were damaged.
Although the majority of the Soviet bomber missions were carried out during the hours of darkness, whereas the Luftwaffe bombers still operated mainly in daylight, the Soviet bomber losses on the Eastern Front in 1942 were about twice those of the Luftwaffe's. Around 1,600 Soviet bombers and 850 German bombers were lost on operations on the Eastern Front through 1942. The dominant reason to this was the superiority which the Luftwaffe's fighters still held in 1942. The Germans had learned from the Battle of Britain, and mainly dispatched their fighters on free hunting missions in the target area, ahead of the bombers, and thus generally managed to pave the way for the bombers.
In fact, most German bomber missions on the Eastern Front in 1942 were carried out without any fighter interception. Between March 3, 1942 and December 31, 1942, 1./KG 100's Hauptmann Hansgeorg Bštcher carried out 344 bomber missions on the Eastern Front. Only on twenty-five of these occasions was his He 111 intercepted by Soviet fighters - which means that he flew 319 combat sorties without encountering any fighter oppositions during the same period.
A comparison between Bštcher's logbook and Soviet 86 BAP's war diary during a period in August 1942 is quite telling: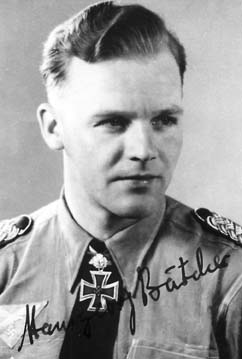 Bštcher logbook:
August 21, 1942: Misssion No 311, 1159 - 1600 hrs. 1 SC 500 dropped in Beketovka. No resistance.
August 22, 1942: Mission No 312, 0400 - 0734 hrs. Attack against targets in Karpovka-valley, 2 SC 500 dropped. No resistance.
August 22, 1942: Mission No 313, 1051 - 1423 hrs. Attack against targets in Karpovka-valley. 2 SC 500 dropped, two buildings destroyed. No resistance.
Note: I./KG 100 suffered no losses on any of those days.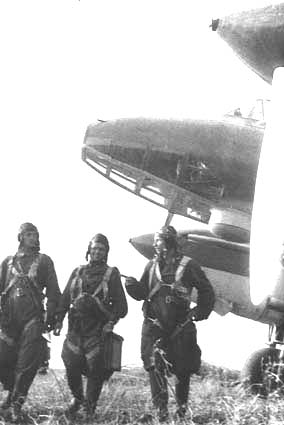 A Soviet Pe-2 crew returning from a mission.
86 BAP War Diary:
August 21, 1942: Led by the Polk commander, Mayor F. Belyy, eight Pe-2s carried out a bombing operation against German tanks in the region around Lake Tsatsa. As a result of the raid, twenty-five tanks were damaged. During our bombers' approach flight, the enemy fighters applied a new intercept tactic. Our fighter escort was attacked and drawn into a hard air combat. As a result of this, our bombers were left without any escort during the return flight. They were attacked by ten Me-109Fs, which shot down five of our Pe-2s.
August 22, 1942: Six Pe-2s, led by Starshiy Leytenant Zuyev were dispatched against the river crossing in the area north of Akatov. Our fighter escort, five Yak-1s, were attacked by ten Me-109Fs according to the enemy's new tactic. The German fighters shot down the two wingmen of [Zuyev's] leading Zveno. In the crew of Bondarenko, the navigator Zubkov shot down one of the Me-109s that were attacking from above. Seconds later, the gunner Malygin shot down another Me-109F.
Sources:
Bundesarchiv/Militärarchiv, Freiburg.
TsAMO, Podolsk.
Major Hansgeorg Bätcher: Flugbuch.
The article above consists of material from the forthcoming volumes of Black Cross/Red Star: Air War Over the Eastern Front.
© Christer BergstrŲm 2001
Back to Main Page