Front Cover Painting of Volume 1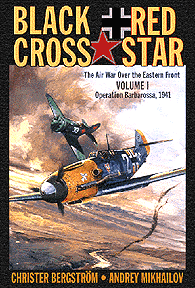 Volume 1 front cover painting by Australian artist Tony Belobrajdic shows a meeting between the German fighter ace Leutnant Max-Hellmuth Ostermann, of 7./JG 54, and the Soviet fighter ace Leytenant Vasiliy Golubev, of 13 OIAE/KBF.
Ostermann was among the most talented fighter pilots of JG 54 Grünherz on the northern sector of the Eastern front. One year later the 24-years-old Ostermann was shot down and killed on August 9, 1942. By that time, he had amassed 102 victories during about 300 sorties, which placed him on the top of all pilots of JG 54.
Golubev was five years older and already a pilot veteran as the German onslaught on his motherland began, and managed to survive the entire war. During 546 combat sorties, Vasiliy Golubev scored a total of 16 personal and 23 collective aerial victories.
On August 13, 1941, Vasiliy Golubev, flying the I-16 "White 13", was shot down and severely injured by a Bf 109 F from JG 54. After returning from hospital, from mid-September 1941 he flew an I-16 Mark 29, "White 33". It probably was Vasiliy Golubev, piloting this plane, who shot down and killed the Finnish ace Captain Paavo David Berg on November 5, 1941. Flying this plane, Golubev claimed sixteen victories (most of them shared with others) between the fall of 1941 and the spring of 1943. After Golubev's new unit, 4 GIAP/KBF, had been re-equipped with modern La-5 fighters, the I-16 "White 33" remained in service for night flights with the unit. Although bringing luck to Golubev, this plane became fatal for another famous Soviet fighter pilot.
On July 1, 1943, the commander of 1 GIAD/KBF (to which 4 GIAP/KBF belonged), Polkovnik Petr Kondratyev, took off in "White 33" for an inspection flight to the newly constructed air bases at Seskari and Lavansaari islands in the Gulf of Finland. Taking off from Seskari that same evening, "White 33" crashed, killing Kondratyev.
Back to Main Page