Black Cross Red Star Aviation Art
I am proud to present some of the excellent aviation art by Russian aviation artist Eugene V. Alekseyenko, who made the front cover painting for "Black Cross/Red Star", Volume 2.
The first painting by Eugene shows Hermann Graf and Alfred Grislawski together during a mission on the Eastern Front in the summer of 1942.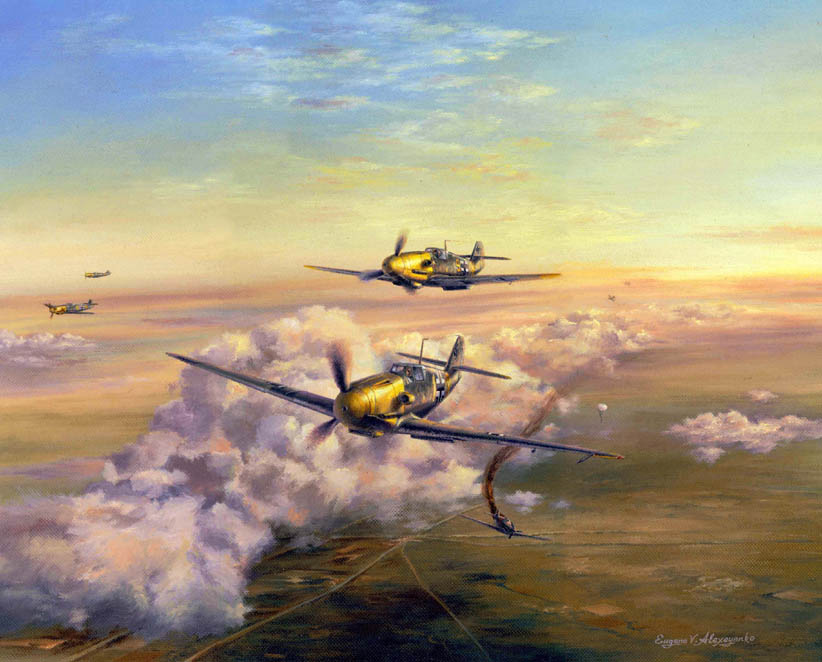 The book "Graf & Grislawski: A Pair of Aces" is published - for more information, please click HERE.
For next aviation painting by Eugene Alekseyenko, click HERE.
Other aviation paimtings by Eugene Alekseyenko on this site:
A formation of Soviet MiG-3 fighters on patrol on the Eastern Front in early 1942
Soviet MiG-3 fighters intercepting Bf 110s on the Eastern Front in early 1942
The Bf 109 G Schwarm led by Hauptmann Günther Rall on a free hunting sortie on the Eastern Front
Two Soviet Polikarpov U-2 (Po-2) biplane light bombers
Air combat between a La-5FN piloted by Vitaliy Popkov, 5 GIAP, and a Bf 109 G-6 piloted by Günther Rall
Two Soviet A-7-3A gyroplanes over the frontlines at Yelnya in late Summer of 1941
© Eugene V. Alekseyenko and Christer Bergström 2003
With kind regards to our friend Andrey Mikhailov for his assistance.
Back to Main Page